Hi! Kylie here from Made by a Princess! Today I'm sharing a Father's Day gift idea with you!
For this project you will need the new Tim Holtz Bigz Dapper die, XL Alphabet Upper Die, & XL Alphabet Lower Die. My friends at Thermo-Web sent me some of their Deco Foil products to complete this project and I think you are going to love this foil look as much as I do!
We're going to start by making the letters. Take out your XL capital letter die and your Deco Foil Foam and pieces big enough to cover the letter you want to cut. Using the sandwich method (Cutting Pad, XL Alphabet Upper die, Deco Foil Foam, Cutting Pad) roll your sandwich through the Big Shot Machine until the whole thing has come through on the other side. Now do the same for all the lowercase letters you need using the same method but with the XL Alphabet Lower die.
Once you have all of your letters cut out you can cut the pieces out to make your tag. Just as before you will use the sandwich method but will use the Tim Holtz Bigz Dapper die and then a piece of Deco Foil Foam on top. Lay out all your pieces to make sure you have all you need before you start burnishing the foil.
I started with the "Happy Dad's Day" message because I knew that was going to going to all be in blue. Remove the paper backing from the right side (top of your letter) and place face down on the matte silver side of your foil. Once all your letters are secure turn over and lightly burnish, or rub, the letters. The letters will slowly start to peel away. If there are some areas that are missing foil you can take the Deco Foil Adhesive Pen and dab a bit of adhesive and let dry according to directions and rub with the foil again. It's pretty fool proof.
Once you're done foiling your letters and dapper man you are ready to decorate your gift box and tags! I chose a kraft style beer box and filled it with things my husband loves like local craft beer, beef jerky, caramel corn, and cashews.
I know my husband is going to love this and it was really easy to put together. What will you fill your box with?
Happy Father's Day!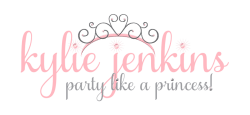 Other Materials Used: